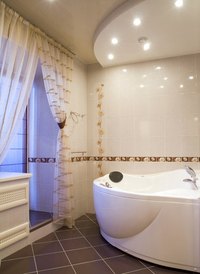 Adding a bathroom to your home often provides extra value and function. Sometimes the easiest place to add a bathroom is in your basement. When designing your basement bathroom, you'll need to consider the special needs of basement construction. Because a basement is below grade, there are likely to be plumbing concerns that may involve special sump pumps and upgrades. It is also a good idea to plan for additional light so that the bathroom will feel spacious and airy. With some good planning, your basement bathroom can become a spa-like destination that adds to the comfort and usability of your entire home.
Things You'll Need
Tape measure
1/4-inch graph paper
Pencil and eraser
Straight edge
Tracing paper
Tape
Construction template
Construction ruler
Hire a plumber, inspector or architect to examine your basement for hidden plumbing or construction issues. It is also a good idea to ask your local building or planning office if you are allowed to add a bathroom and what permits or costs will be involved.
Measure the entire basement using a tape measure. Transfer the measurements to a large sheet of 1/4-inch graph paper. Mark the location of all windows, doors, walls, fixtures, pipes, utilities or furnaces, drains, stairs, niches, electrical outlets, heating and air conditioning ducts and plumbing fixtures. Keep in mind that walls are at least 3-1/2 inches thick, so your wall lines will need to be about 1/16-inch thick. Mark the locations of all door swings, cabinets and build-ins.
Tape tracing paper over your basement floor plan. Draw in the location where you want to install the bathroom. A minimum-size full bath is approximately 6 feet by 8 feet. Design your bathroom to include all of the features that you want. A larger bath may have a jetted tub with a stand-up shower, double sinks, a heated floor and a commode behind its own privacy wall.
Add the location of lights, fixtures and fittings. If your basement has low ceilings, you may need to use wall sconces and recessed lights. Try sketching at least four or five designs. Position the entry door at different locations. Expand and reduce the size of the bathroom to see how it might work with different features.
Redraw your final design so that your tracing paper shows the relationship with the rest of the basement. You might even make a complete basement floor plan on tracing paper, indicating the size of rooms, doors, windows, tubs, showers and more. This plan can be photocopied when you discuss your design with the building department, architect, contractor, plumber and electrician.