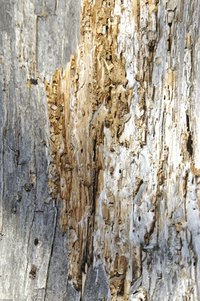 Termites are fast-moving, destructive and hungry little bugs. There are two types of termites in a colony: small, cream-colored worker termites and the winged swarmers. If you see winged swarmers flying around your tree around March through May, the tree is infested. You could hire a professional to treat the tree or you could treat the tree yourself. If you find swarmers in your home, this means that the house is most likely infested and a professional should be contacted.
Things You'll Need
Drill
Drill bit
Low-pressure pump sprayer
Termite spot treatment poison
Wood filling compound
Putty knife
Termite bait plugs
Drill four to five small holes into the tree near the area that you see the termites.
Spray the entire tree with the low-pressure pump sprayer filled with termite spot treatment poison. Pay close attention to filling the holes.
Fill the holes with wood-filling compound to prevent any diseases from entering the tree. Press the filler into the holes with a putty knife.
Bury the bait plugs around the stump of the tree. Follow the manufacturer's instructions for the exact positioning and soil depth.