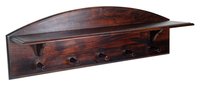 Wall-mounted shelves and coat racks solve space and organization challenges by making use of your walls. Locating the vertical framing boards inside the wall, called studs, is the key to successfully mounting objects on a wall. The fasteners provided with the shelving or rack must be driven into the studs for a secure installation. Studs can be located with a basic carpentry tool called a stud finder. Once the studs are located, you can mount shelves, racks and other organizational objects on your walls with the same procedure.
Things You'll Need
Stud finder
Pencil
Shelf/coat rack, with fasteners
Level
Drill
1/16-inch pilot bit
Screwdriver
Slide the stud finder along the wall at the approximate height you would like to locate the shelf or rack. Mark the studs at the locations indicated on the stud finder with a pencil.
Place the shelf or coat rack against the wall. Set a level on top of the horizontal surface of the shelf or rack. Level the shelf or rack.
Mark the position of the fastener holes on the wall while holding the shelf or rack in place using a pencil. Remove the shelf or rack from the wall.
Drill a pilot-hole at the pencil marks indicating the position of the fastener holes on the wall using a drill with a 1/16-inch pilot bit.
Align the shelf or rack against the wall with the holes lined up. Drive screws through the holes in the shelf or rack to fasten them in place using a screwdriver.