If the turkey carcass goes right in the trash in your home, you're missing out on a gold mine of nutritious turkey stock. Making stock requires little more than turkey bones and some water, but to make a richer, more nutritious stock, experiment with vegetables, herbs and spices. Freeze the stock, then pull some out all winter long for soups, stews and other recipes that call for canned or boxed broth or stock.
Things You'll Need
Stock pot with a lid
Turkey carcass
Fine mesh strainer
Green pepper (optional)
Onion (optional)
Stalks of celery (optional)
Carrots (optional)
Potato (optional)
Fresh mushrooms
Salt (optional)
Pepper (optional)
Herbs and spices (optional)
Parmesan cheese rind (optional)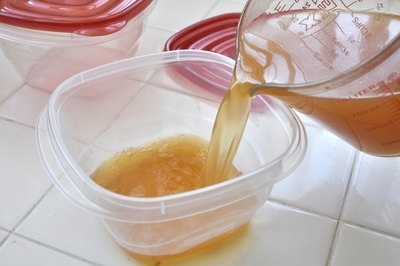 Step 1
Place the turkey carcass in a soup or stock pot with a tight-fitting lid.
Step 2
Fill the pot with enough water to cover the bones, plus a few inches.
Step 3
Add vegetables and seasonings to create a richer turkey stock, if you like. Include chopped green peppers, onion, potato, carrots or celery, and whole mushrooms. Drop in one or two bay leaves, or choose from parsley, rosemary, thyme or garlic. Sprinkle in a bit of curry spice or chili powder for a smoky, spicy stock, and season with salt and pepper to taste.
Step 4
Cover the pot and place it on the stove over high heat.
Step 5
Bring the pot to a full boil, then reduce the heat to medium.
Step 6
Simmer the stock for one to two hours, or until the remaining meat easily falls off the bone.
Step 7
Strain the stock through a fine mesh strainer and discard the bones. Save the meat for soups, casseroles or other recipes, if you like.
Step 8
Store stock in the refrigerator for two to three days, or in the freezer for three to six months.