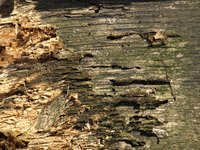 Termites are soft-bodied, wood-devouring insects that can be highly destructive to your home. Termites enter your home from cracks in the foundation and underground nests and slowly consume the wood in your home. Over time the amount of damage done can leave you with structural damage and reduce the value of your home. You can use Ortho products made for killing termites before they enter your home and create a barrier to prevent them from entering in the future.
Things You'll Need
Ortho Home Defense Termite & Destructive Bug Killer
Water
Shovel
Steel rod or pipe
Sprinkle can
Kill Subterranean Termites
Remove all wood and wood debris from the perimeter of your house. This will prevent termites from having a place to nest and feed.
Dilute the Ortho termite killer by adding 6 1/2 tbsp. of Ortho to every gallon of water.
Identify your foundation as either a poured-concrete foundation or a brick-and-block foundation. For poured concrete, dig a six-inch-wide trench. Depending on whichever is less, make the trench down to the footing or four inches deep.
Dig a six-inch-wide trench that is 12 inches deep for brick-and-block foundations. Take note if the footing is deeper than 12 inches. If deeper, make holes that are one foot apart by using a steel rod or pipe. The holes should extend from the bottom of the trench to the top of the footing.
Use four gallons of diluted solution per ten linear feet of depth. Add the diluted solution to the trench in two stages. Pour half of the solution into the open trench using a sprinkle can. Refill the trench. Pour the remaining solution to the backfill.
Kill Outdoor Termites on Surfaces
Pour water into a one gallon bucket. Add 1 tbsp. of Ortho to the water. Fill a tank sprayer with the diluted Ortho solution.
Spray outside wood piles and stored lumber so that it is drenched.
Spray the diluted solution evenly on the outdoor wood surfaces of buildings and wood fences. Wait for the sprayed areas to dry and repeat.