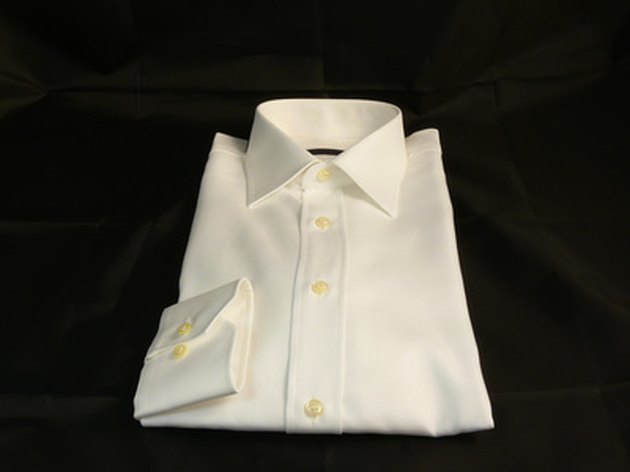 Underarm shields to protect clothing from perspiration stains were sold in every dime store and department store before the1960s when antiperspirants became must-haves. Shields still can be purchased, but you may have to hunt for them. If antiperspirants don't work well for you, disposable pads are easy to make by altering other products.
Things You'll Need
Disposable diapers

Thin menstrual pad or panty liners

Scissors

Super-absorbent cloth or towel

Double-face tape

Round bowl

Pencil

Cardboard
Step 1
A garment shield for the underarm must be absorbent, stick to the clothing and be comfortable to the skin. Feminine products meet those requirements. A panty liner can be used as is or trimmed on the ends to fit. The sticky strip adheres to the underarm of the clothing. Small and easy to carry, the liners can be replaced throughout the day.
Step 2
For heavy perspiration, use a sanitary pad with maximum absorbency. The pads come in different lengths, so choose a shorter version or trim the edges off. Position the pad while you are wearing the top or shirt to ensure a comfortable fit and to make sure the pad isn't making a bump in the clothing. Attach the adhesive strip to your shirt; the soft side will be against your skin.
Step 3
For a custom fit, buy inexpensive baby or adult diapers in a dollar store and cut out a shape. First experiment with a couple of paper shapes and sizes. Use a bowl to make a circle or draw an oval. When you find the best fit, make a template out of cardboard. Cut the shape out of the absorbent parts of the diaper. Use double-faced tape to adhere the pad to your clothing.
Tip
As a temporary measure while you are driving to an appointment, especially when nerves or heat are factors, tuck in a washcloth or a thick paper towel. Remove when you get to your destination, and your clothes will be fresh.