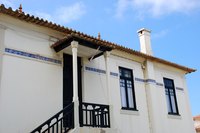 Nuclear explosions first cause a great burst of light and heat that can blind eyes and blister skin. The three miles surrounding a nuclear explosion face complete destruction, and all areas within about 25 miles face damage from both the blast and the subsequent nuclear fallout. You can increase the light protections of hiding in your house by taking steps to build a nuclear shelter and keeping appropriate survival goods stocked.
Things You'll Need
Lead panels
Water bottles
Canned food
Cover your home with lead paneling. Lead withstands the radiation caused by nuclear fallout. However, lead can be dangerous, so avoid putting lead in any areas you come into contact with. Line another material on top of or underneath lead paneling to avoid the risks of lead poisoning. You might choose to completely avoid lead paneling because the risk of lead poisoning is much greater than the risk of nuclear attack.
Cover your basement walls with lead. If you are too close to a nuclear attack, your house might be damaged beyond repair—no matter the precautions you take. If you turn your basement into a bomb shelter, you provide yourself with a greater chance of survival.
Replace conventional windowpanes with storm windows. Nuclear blasts damage windows as far as 25 miles away from the detonation site.
Replace wooden roofs with tile. Heat causes the greatest risk of burning your house during a nuclear attack. Chose heat-resistant materials in home design whenever possible.
Stock your basement with survival necessities such as water bottles, canned food, bedding, a radio, clothing and books or games for entertainment. You want at least 14 days of supplies for each person in your household. Choose canned food with little sodium because these foods will compromise the bulk of your diet if you're forced to take shelter. Excessive sodium causes water retention and can increase your risk of heart problems.