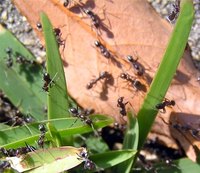 Dial-style hose end sprayers mix water and chemical concentrates together at a predetermined rate for spraying lawns or other large areas. There is no premixing of chemicals and water in a container and then pouring them into a hand sprayer for this application process. Any remaining undiluted chemicals in the sprayer will pour back into the original package for a future use. A dial-style hose end sprayer saves the cost of mixing extra chemicals, not using them at once and wasting them.
Determine the concentration level of herbicide or pesticide to spray on the lawn. Refer to the original package of the product to spray. The concentration level may be in ounces or teaspoons per gallon of water on the package instructions. For example, a package may state the concentration level of 2 oz. per gallon of water.
Examine the dial style hose end sprayer to determine if the dial calibration is in ounces or teaspoons. The dial will state ounces or teaspoons and will have marks generally from 1 to 12 on the dial.
Turn the dial on a sprayer calibrated in ounces to the 2 mark to mix 2 oz. of pesticide or herbicide per each gallon of water as it exits the nozzle.
Turn the dial on a sprayer calibrated in teaspoons to the 12 mark to mix 12 tsps. of product with each gallon of water to spray the lawn.