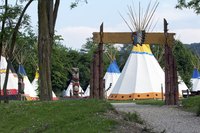 Whether you're making a school project or just having some rainy-day craft fun, teepees make a perennial project favorite. The conical tents of the Plains Indians were made from wooden frames covered with hides from buffalo or other animals, and they could be disassembled and packed up for moving quickly and efficiently. You and your youngster can make your own model almost as quickly. All you need is craft sticks, fabric or paper, and craft glue.
Things You'll Need
Cotton fabric, cardstock or paper grocery bag
Scissors
Craft glue
3 craft sticks
Draw a 3-inch circle on the fabric or paper. The lid from a coffee can makes a good template.
Draw a triangle from the center of the circle to the edge, with a 1 1/2-inch base. Cut out the triangle.
Place a quarter in the center of the circle and trace it.
Cut the small circle out of the larger one
Match the edges of the cutout and lightly crease the fold line to mark the center of the circle.
Glue one craft stick to the fold line, placing one end on the outer edge of the large circle and extending the other end into the small circle.
Glue one stick on either side of the triangular opening, with the outside end of the stick about 2 inches from the triangle base and with the other end extending into the small center circle.
Allow the glue to dry thoroughly.
Fold the circle into a cone, overlapping the edges of the triangle slightly. Glue the edges together.