Exterminating fleas can be a costly task, especially when you have a dog who spends a fair amount of time indoors and may have exposed the rest of the home to the flea infestation. While there are many different powders, shampoos and sprays available for getting rid of fleas on dogs, these remedies can add up to a lot of expense. Natural home remedies are an effective and cheap way to get rid of fleas on dogs.
Things You'll Need
Cooking pot
6 halved lemons
Hot pad
Strainer
Spray bottle
Lemon essential oil
Step 1
Pour 1 quart water into a pot and add six halved lemons. Boil the two ingredients, then remove the pot from the heat and set it on a hot pad. Allow the lemon mixture to sit for two to three hours.
Step 2
Hold a strainer over a spray bottle and pour the lemon mixture through the strainer, into the spray bottle so only the liquid goes through. Throw away the lemon rinds and pulp.
Step 3
Spritz the dog with the lemon spray starting at the back of the neck and working your way toward the tail and down toward the chest and stomach. Rub the lemon spray into the fur with your fingertips, making sure to get it down to the skin where the fleas are.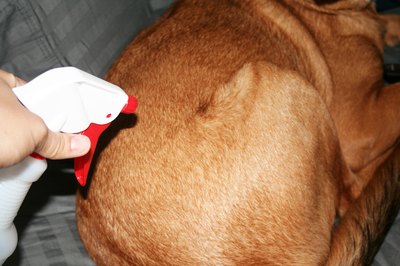 Step 4
Spray the lemon solution onto your hands and gently pat it around the face and head. Avoid spraying near the face or ears. Reapply the lemon solution spray once per week during flea season.
Step 5
Place a drop of two of lemon essential oil onto the dog's collar as an additional form of flea repellent.