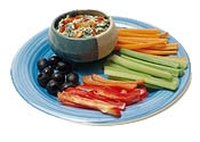 How to Make Spinach Dip. This party favorite is quick to fix. If you want to be really fancy, serve it in a hollowed-out round of sourdough bread and use the extra bread for dipping. Makes 1 1/2 cups.
Things You'll Need
2 tbs. butter or margarine
2 tbs. chopped onion or green onions
1 clove garlic, minced
24 oz. soft cream cheese (two 12-oz. containers)
2 tbs. milk
10-oz. box frozen spinach, thawed and squeezed dry
zest and juice of 1 lemon
1 tsp. Worcestershire sauce, or to taste
few drops hot-pepper sauce
1 c. minced red bell pepper
Groceries
Saucepans
Serving Bowls
Wooden Spoons
Melt butter or margarine in a medium-sized saucepan over medium heat.
Add onion and garlic and cook until onion is tender, stirring occasionally.
Add cream cheese milk and cook, stirring, until smooth.
Stir in the spinach, lemon zest, lemon juice, Worcestershire sauce and if using, the hot pepper sauce. Heat through.
Stir in half of the red bell pepper.
Transfer to a serving bowl, sprinkle with remaining bell pepper and serve with vegetable dippers.