From its roots in tribal designs to modern art exhibitions, the technique of body painting has made its way into western art over the last 50 years. In its current form, body painting is used for many occasions and has become a way for artists to use the body as a canvas ripe for the imagination. Body painting is not just for the artistic community, but can be done at home to express your vision or simply to have fun using a new medium. To add longevity to your art, you can make waterproof body paint at home without difficulty.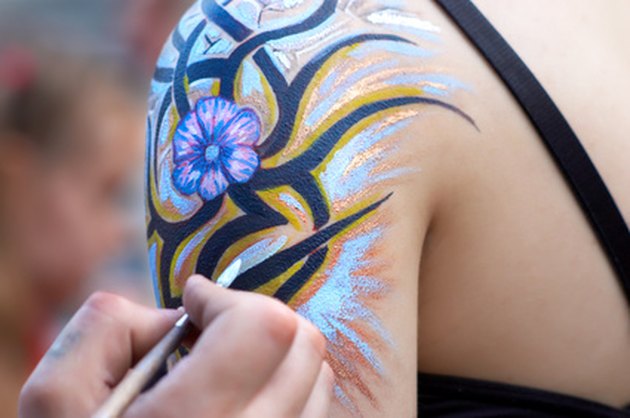 Things You'll Need
1 qt. skim milk

1 oz. hydrated lime (do not use quick lime)

1/2 tsp. water

1 large mixing bowl

1 tsp. powdered tempera paint in color of your choice

1 tsp. cornstarch

1 medium mixing bowl

measuring cups

1 qt. container to hold paint when finished

assorted paintbrushes

antiperspirant

hairspray
Step 1
Mix 1 qt. skim milk, 1 oz. of hydrated lime and 1/2 tsp. water into a large mixing bowl. Combine the wet ingredients into the large bowl, and mix until they are smooth and no longer separated.
Step 2
Blend 1 tsp. each of powdered tempera paint and cornstarch into the medium mixing bowl until the cornstarch picks up the color of the powdered tempera paint.
Step 3
Add the tempera paint and cornstarch to the large mixing bowl until all the ingredients are blended together.
Step 4
Pour the paint into a 1-qt. container to better hold it during the application process.
Step 5
Apply antiperspirant to areas where you are going to apply paint to make the paint waterproof. After the paint dries, spray a thin coat of hairspray to make the paint more water-resistant.
Tip
To make more paint colors, repeat the recipe as needed.
Warning
Avoid using toxic or store-bought paints like acrylic or latex on the skin. Using them may cause skin irritation or suffocation.