Things You'll Need
Protective clothing (preferably disposable)

Face mask

Hose or bucket of water

Thick drop cloth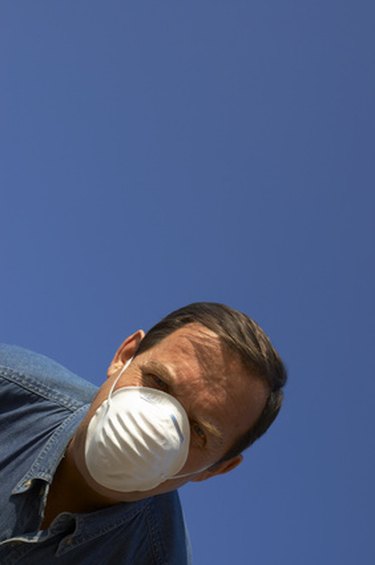 You read about illness due to asbestos and you hear about class-action lawsuits stemming from asbestos exposure, so naturally you wonder how you can even get rid of the stuff. Surprisingly, asbestos is not a health hazard when it remains undisturbed. It is only when asbestos is damaged or someone tries to remove it that it releases harmful particles into the air. There are federal regulations for asbestos removal and California has additional regulations.
Step 1
Research the rules. Federal regulation 902, which requires a contractor licensed in asbestos abatement, is not applicable to a single residence, only to owners of four or more residences. However, state and local rules also apply to removal. In California, Cal-Osha governs businesses. California law allows you to dispose of asbestos if you are the owner/occupant of the residence it is being removed from. However, your county or city may have regulations that are even stricter, so you must contact the local Environmental Protection Agency office to determine all the rules and regulations that apply to your situation.
Step 2
Contact the California, Pacific Southwest, Region 9, Environmental Protection Agency office if you are the owner/occupant of a residential building with less than 100 square feet of asbestos. If you are planning to remove asbestos in any other situation, contact a California State Licensed Asbestos Abatement Contractor. Also, read the EPA pamphlet "Asbestos in Your Home" before making a decision about whether you want to remove the asbestos material yourself or hire a professional.
Step 3
Find a California disposal site that is licensed to take asbestos materials by contacting the California, Pacific Southwest, Region 9, EPA office. Call the disposal facility ahead of time to find out how the material must be packaged and what hours they are open.
Step 4
Remove the asbestos, if allowed to do so by law. Keep in mind that the EPA has determined that even one exposure to airborne asbestos can be hazardous to your health. Wear protective clothing and a mask. Wet the asbestos material before disturbing it. Do not sweep, shovel or touch dry materials. Place a drop cloth at least 6 ml thick beneath your work area. Wrap the asbestos materials in the drop cloth and dispose of the whole bundle. Do not allow anyone else to be in the home or the surrounding area during removal.
Tip
Even if you are allowed by law to remove your own asbestos, this may be one job you want to hire out. California State Licensed Asbestos Abatement Contractors are carefully trained before being licensed, wear protective clothing that must be laundered according to specific regulations and have specialized removal equipment. Still, they must take a multitude of precautions and have medical exams at regular intervals.
Warning
It is generally recommended that asbestos not be disturbed unless absolutely necessary or unless it is in poor condition since it is asbestos fibers in the air that cause health problems.