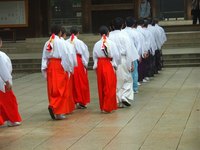 A Japanese table sits about 13 inches off the ground and some have a heat source in the center. A tablecloth is draped over the table so it touches the floor. The legs of the table are set toward the center of the table to allow people to sit with their legs crossed and to protect the heat source. People sit on the floor and place their legs under the tablecloth for warmth.
Things You'll Need
4-by-4-foot plywood, 3/4-inch thick
1 1/2-by-1 1/2-foot solid table
Top mount heater
Drill
Wood screws
Wire staples
Hammer
Circular saw
Sandpaper
Stain
Sealer
Rag
Paintbrush
Mark and cut the legs off the 1 1/2-by-1 1/2-foot table to 13 inches. Sand the cut area so it is smooth and will not scratch the floor.
Optional: Turn the table upside down and place the top of the table on the working surface. Attach the top hung heater from the brackets to the bottom of the table using a drill and wood screws. Lay the bracket flush against the bottom of the table. Use a drill and place wood screws in the bracket openings. No hole is required in the wood as the heater hangs down from the bottom of the table when it is turned over.
Sand the 4-by-4-foot piece of plywood to remove all burrs. Keep sanding until the plywood is smooth.
Look at the plywood and decide which side is the front and which side is the back. Place a coat of stain on the back side of the plywood. Let dry. Optional: Seal the back of the stained plywood before continuing with the project.
Lay the plywood so the unstained portion is facing down. Center the top of the small 1 1/2-by-1 1/2-foot table in the center of the back side of the plywood. Secure the table to the plywood by using wood screws. Optional: Attach L-brackets from the edge of the small table to the underneath side of the tabletop for more stability.
Use wire staples and secure the cord from the heating unit down one of the 13-inch legs. Leave enough wire on the plug so it will easily go to an electrical outlet or be plugged into an extension cord.
Flip the table over and sit it on the legs. Lightly sand any areas that were scratched while it was turned over. Wipe off the top of the plywood with a soft rag to remove any dust or dirt.
Stain and seal the top and edges of the Japanese table. Let the stain and sealer dry thoroughly before use.