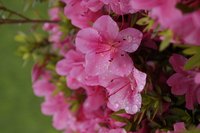 Growing Azaleas in Arizona can be a challenge. Your success depends largely on the species of Azalea you are trying to grow. Azaleas require rich acidic soil that may be uncommon in your area. Growing small species in container gardens is often a good way to grow healthy Azaleas in a desert setting. According to the American Rhododendron Society, azaleas, a member of the rhododendron family, can thrive in hot, dry climates, but special care is required establish them. Your rate of success depends largely on the species of Azalea you are trying to grow.
Things You'll Need
Peat moss potting soil mix
Slow-release acid fertilizer
Find heat-loving, drought resistant native species of Azalea at your local nursery. Purchase compost and peat moss potting soil mix, if your own garden soil is not already rich, acidic and aerated. Plant new Azaleas on a cool fall day to give them the best chance of thriving.
Grow small species of Azaleas in container gardens using a peat moss potting soil mixture to raise acidity. Add a layer of mulch on top of the soil to help retain moisture and weight the soil down.
Place potted Azaleas in a convenient location where you can monitor their condition periodically. Water regularly to keep soil moist but not soaked.
Protect your Azaleas from the hot Arizona sun. Study the patterns of shade over the course of the day to make sure your Azaleas are not baked in direct sunlight. With hundreds of Azalea species, exact sunlight requirements vary, but most love heavy shade and filtered morning sun.
Avoid placing the azaleas near heat sources, such as sun-baked pavement. Apply a slow-release acid fertilizer monthly, but do not give fertilizer when the foliage is wet.
Plant larger varieties of azaleas in the ground after saturating the root ball in water. Use plenty of compost and top off with a well-drained peat moss soil mix.
Cover root balls completely with dirt and then cover with a thick layer of mulch to retain moisture. Brush all dirt and mulch away from the trunks, but do not expose any roots. Add acidic slow-release fertilizer only after your azaleas are established and growing.