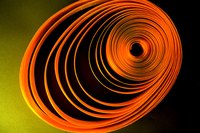 When troubleshooting a reverse osmosis water system, it's important to understand what you may be looking at as the cause of the particular problem you're having. Although there can be other possible problems, the most common problem that people experience with their reverse osmosis system is getting low water pressure from their dispensing faucet. The ability to troubleshoot this situation in terms of causes is most likely to help you keep your system functioning optimally.
Things You'll Need
Air pressure gauge
Air pump
Screwdriver
Check to see if the air pressure in your system's holding tank is incorrect. It should be at 8 PSI. If you find it is incorrect, open your faucet and empty out the water from the holding tank while shutting off the feed water to your system. Remove the holding tank from beneath the sink. Add in air through the air valve stem until all water is removed from the tank. Add air and pressurize to 8 PSI. Once this is done, re-install the tank beneath your sink and fill the tank back up through the water feed system.
Check to see if your carbon post filter is clogged. If it is, replace the filter.
Check to see if your reverse osmosis system's holding tank valve is partly closed. If it is, open the valve all the way.
Check to see if your regular faucet has somehow been damaged or is out of adjustment. If it is, see if you can repair the faucet. If you find that you cannot repair it, you will need to buy and install a new faucet.
Check to see if your reverse osmosis water system's holding tank is empty. If your household engages in heavy water use, this is a good possibility if you're having the water pressurization problem. If this turns out to be the case, let your water tank fill up. Also consider if there is any way that you can lower your water use.