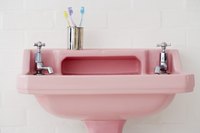 Bring back a retro vibe from the 1950s into your existing bathroom with a chic remodel. Incorporate pastel hues, chrome furnishings, vintage wallpaper and old-fashioned accents to enhance the 1950s theme. Include your favorite retro items to reflect your personal decorating preferences from a bygone decorating era.
Things You'll Need
Vintage 1950s wallpaper
Linoleum flooring
Pink tub, sink and toilet
Pastel-colored vanity
Plastic hardware
Laminate vanity countertop
Chrome furniture
Pastel-colored towels and shower curtain
Vintage 1950s bathroom accessories
Hang moisture-resistant 1950s-inspired wallpaper on the existing walls to provide a vintage backdrop for your retro bathroom furnishings. Choose wallpaper patterns featuring geometric shapes, sailboats or seashells, for an authentic 1950s feel.
Use a linoleum color for your bathroom floors that's reminiscent of 1950s style. Whether you prefer a vintage black charcoal shade, a light pastel hue or a crazy geometric pattern, select a linoleum to suit your mid-century taste and enhance your old-fashioned color scheme.
Think pink. Exchange existing toilets, sinks, tubs and wall tiles with pink replacements for authentic 1950s appeal. Pair vintage pink fixtures with a contrasting black-tile backsplash for designer-savvy 1950s charm.
Choose an accommodating pastel-colored vanity in seafoam green, powder blue, mint green or cotton candy pink to rev up the mid-century ambiance. Install retro-inspired plastic hardware and a laminate countertop on top of your vanity for authentic 1950s vintage flair.
Add furniture pieces with shiny chrome legs, such as a vanity, accent table or vinyl-padded stool to ramp up your 1950s decorating theme.
Accessorize your bathroom with a pastel-hued shower curtain and coordinating bath towels. Choose thick, fluffy towels in pastel tones of pink, blue, yellow, and green to display on towel racks, shelves and tables in your 1950s-inspired bathroom.
Display vintage 1950s bathroom accessory items. Home accents, such as old powder cans, shaving articles, vintage perfume bottles, retro plant containers and antique purses or hats, are a great way to give your bathroom a genuine1950s-style feel.