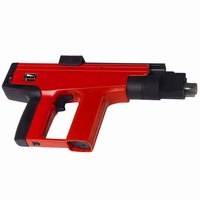 Construction workers use a powder actuated nail gun to drive nails through the bottom wall plate and into the concrete slab for an anchor. It is important that the walls anchor firmly to the concrete for sturdiness and stability from the ground upward on a house or building. Powder actuated nail guns use a 0.22 powder load and nails with flanges. Striking the firing pin with a hammer acts as a trigger on a gun to place the nail in the slab.
Things You'll Need
Hearing protection
Safety goggles
Powder actuated nails
Put on safety goggles and hearing protection devices like safety headphones or earplugs.
Insert the head of a powder actuated nail into the tip of the nail gun, and slide it inward until the colored flute is inside the barrel.
Squeeze the release trigger on the barrel and slide it backward toward the top of the nail gun. The top is the end with a plastic shield around a metal pin. This action opens the powder chamber.
Place a powder load into the chamber on the barrel. Slide the barrel forward to close the chamber.
Hold the powder nail gun firmly with one hand like a fist at the top on the plastic handle. Place the tool on a two-by-four in the center of the bottom stud.
Press the powder gun down firmly to cock it, and hold it pressing downward at a 90-degree angle to the surface.
Hold a hammer in the other hand, and strike the metal firing pin with force. The firing pin strikes the gunpowder and ejects the nail through the wood and into the concrete.
Open the barrel and remove the spent powder load.