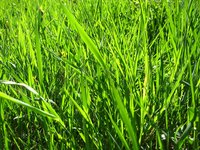 Winter lawn care is critical because it prepares your lawn for severe weather conditions, and also strengthens your lawn for the equally harsh spring and summer weather. The winter months can leave lawns dry, damaged and weak, but by taking the necessary steps, any lawn can go from brittle to beautiful. Although it might seem like a hassle, winter lawn care will reward you year round.
Things You'll Need
Aeration equipment
Annual rye grass
Mow your lawn for the last time in November. Lower the lawn mower about an inch below your normal setting. This will ensure that all of the dead grass is cut and your lawn will have the opportunity to grow.
Apply a potassium-rich fertilizer to your lawn. The nutrients in the fertilizer will help strengthen and protect your lawn throughout the winter months.
Aerate your lawn, if needed. An easy way to tell if you need to aerate your lawn is by sticking a wooden match stick in your lawn. If the stick won't go in without force, your lawn needs to be aerated. It is important to loosen soil that has been compacted during the summer and fall months. Contact a professional to aerate your lawn or rent the proper equipment from a local hardware store.
Overseed your lawn by sprinkling a layer of annual rye grass in your lawn. This will help thicken your grass, as well as protect the color during the winter months.