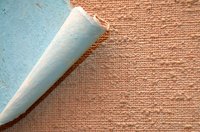 Wallpaper developed a poor reputation after its use in the 1970s, but these days it is making a comeback. Thanks to companies like Design Your Wall Inc. and other designer wallpaper sellers, wallpaper is becoming a preferred option to painting as a way to add style to any room in a house. Protecting that wallpaper so it will last is something every homeowner wishes to do.
Things You'll Need
Polyvinyl varnish
Paintbrush or paint roller
Painters tape
Plastic floor covering
Lay a plastic covering all over the floor in the room where you are going to protect the wallpaper. Tape to the baseboards of the walls if necessary to keep from slipping. This will protect your floor or carpet from stains.
Use painters tape to protect edges of the ceiling or wall that are not covered in wallpaper. Apply the tape to the corners of the wall around the paper so excess varnish is not splattered against walls without wallpaper.
Apply two coats of polyvinyl varnish on the wallpaper using a paintbrush or paint roller. Because the varnish will dry clear and roll patterns will not be visible, using a paint roller will save you considerable time. Use thin coats to avoid globs of varnish rolling down the wall. Polyvinyl varnish can be purchased at any home improvement store, but you should always make sure to buy an interior varnish. Exterior varnishes are for protecting outdoor structures, such as decks.
Make sure varnish is fully dry before removing floor covering and painters tape.