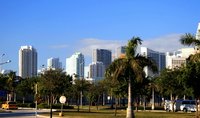 Bahia grass can be grown more easily than most grasses in the high temperatures and sandy soils of Florida. Drought and disease-resistant, Bahia grass doesn't require the same fertile dirt needed for the growth of many other types of lawn grass, and requires little maintenance once grown. The soft-green colored Bahia grass does not fare well anywhere that gets very cold temperatures and frost, though, so is more suited to southern Florida than the northern part of the state.
Things You'll Need
Tiller or hoe
Rake
Scarified Bahia grass seed
16-4-8 slow-release fertilizer
Seed spreader (optional)
Lawn roller
Plant Bahia grass seed during warm temperatures. The University of Florida IFAS Extension recommends planting during the spring or early summer, and using scarified seed that has been treated to germinate faster.
Remove all debris, such as branches and rocks, from the ground surface where you want to plant the grass. Once you have removed the debris, till the lawn with a tiller or a garden hoe to soften the ground for seeding and then go over the surface with a rake to level the soil.
Spread fertilizer before seeding the Bahia grass lawn. The University of Florida recommends 16-4-8 fertilizer spread at a rate of 1 lb. of slow-release fertilizer per every 1,000 square feet.
Spread the Bahia grass seed over the lawn, either by hand or with a seed spreader. Hancock Seed Company recommends 5 to 10 lbs. of seed per 1,000 square feet of lawn. Once spread, go over the entire lawn with a lawn roller to press the seed down into the soil.
Water the lawn each evening for 30 minutes to completely wet the soil until the grass begins to sprout up through the surface. Once the sprouts appear, water the grass every other day, and once the grass reaches a height of 6 inches, water three times a week if it hasn't rained.
Re-fertilize the lawn two to four times throughout the summer growing season. Fertilize for the last time in early fall at the end of the growing season to prepare the lawn for the dormant winter months.