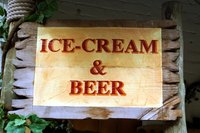 Wooden signs can be used to decorate the interior or exterior of your home and can add a finishing touch to your wall or garden decor. Making your own decorative wooden signs is moderately easy to do and will add a one-of-a-kind touch to your home decor. Using basic craft supplies, you can make your own decorative wooden sign to be displayed in or outside of your home.
Things You'll Need
Thin, rectangular shaped wooden board
Sand paper
Stencils
Acrylic craft paint
Paint brushes
Acrylic spray finish
Lay the wooden board down on a flat surface. Sand the surface and edges of the board to remove any splinters, stains or discolorations in the wood.
Paint the entire surface of the board using the acrylic craft paint, including the sides. Allow the paint to dry thoroughly before proceeding.
Arrange the stencils on the board to create the phrase or image you want to display. You might choose a quote or a picture that coincides with where the sign will be placed, such as flowers for a garden sign.
Paint within the stencil using different colors of craft paint than the one you used in step two. You may need to apply more than one coat of paint to create an opaque finish. Allow the paint to dry before proceeding.
Spray the entire surface of the sign with an acrylic finish to seal the paint. If the sign will be placed outdoors, use a waterproof spray to prevent the wood from warping and the paint from chipping in the rain.