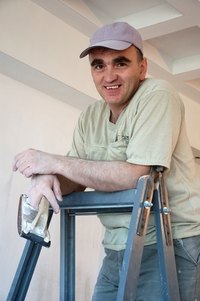 Painting or repairing a high wall may be impossible without using a scaffold. Moving a single extension ladder from location to location is time consuming, tedious and unsafe. When working on a high structure such as walls, ceilings, windows and siding, it's best to build scaffolding. The easiest and simplest way to make scaffolding is with two multipurpose extension ladders and a wooden board. This saves you time and energy, and makes the work environment safer.
Things You'll Need
2 multipurpose extension ladders
8- to 12-foot wooden board
Adjust both multipurpose extension ladders so they form an "A." This allows you to slide the board between the rungs.
Place the multipurpose extension ladders 8 to 12 feet apart from each other, depending upon the size of the board. The ladder rungs should face each other.
Test the strength of your board by placing each end on a low rung on each ladder so the board is level. Walk across the board slowly. It should bow slightly. If you hear cracking sounds you need a thicker board.
Determine the height for the scaffolding and slide the ends of the board between the appropriate rungs on each ladder.