Things You'll Need
Garden hose or pressure washer

Concrete grinder

1300-grit grinding discs

Broom

1500-grit grinding discs

Rough-grit sandpaper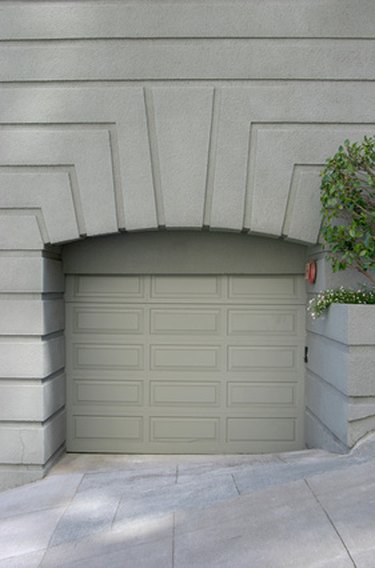 Concrete that is perfectly finished can be very smooth. So smooth, in fact, that it may be dangerous to walk on in slick shoes or bare feet. This is especially true if your concrete surface is located near water, such as a pool or hot tub. Concrete driveways have their own set of texture problems. Driveways that are too smooth are also difficult to drive on. When finishing your concrete driveway, a grinder can be used to roughen the surface to make it safer.
Step 1
Spray down the completely cured driveway thoroughly with a high-pressure garden hose or pressure washer. Ensure that all of the dirt and grime are removed. Let the driveway concrete dry for 24 to 48 hours.
Step 2
Use a concrete grinder that is sized appropriately for your driveway. Be sure that you have an extension cord or outdoor outlet if you choose an electrical model. Affix a 1300-grit disc to the grinder correctly.
Step 3
Begin in one of the interior corners of the drive—that is, the corner nearest the home or other structure. Grind the entire driveway evenly in straight lines. Stop the grinder periodically to examine the wear to the grinding disc and replace it with an identical disc if necessary.
Step 4
Use a broom or push broom to remove any and all debris from the driveway. Replace the 1300-grit disc in the grinder with a 1500-grit disc. Grind the driveway surface again as you did the first time.
Step 5
Sweep the driveway again until it is clean. Examine the surface for any uneven areas. Use rough-grit sandpaper to lightly hand sand any areas as needed to create a uniform texture over your driveway.