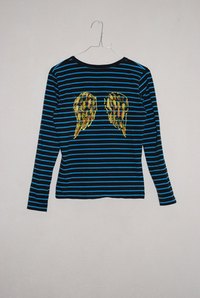 Iron-on transfers of anything from skulls to puppies and iron-on transfer paper to run through a printer are available at fabric and craft stores. Both of these are good options for transforming clothes, but each iron-on is a onetime use and can be expensive. A better and less expensive option to transfer designs onto clothing or other sewing projects is to use a transfer pencil.
Things You'll Need
Tracing paper
Iron-on transfer pencil
Select the image or design you want to transfer to your fabric or clothing. Keep in mind you are drawing the lines of the object that you will paint or embroider onto your fabric, not coloring it in.

Lay your tracing paper over the image. Pressing firmly with the transfer pencil, trace the image or design onto the paper. Make all pencil lines clear and bold. Trace over the lines again if necessary.
Flip your tracing paper over so the pencil side is facedown on your clothing or fabric at the point you want to place the traced image.
Use a warm iron to press the traced image onto your clothing or fabric.