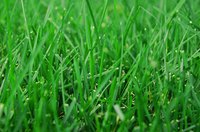 In a neighborhood of dry, brown grass, a green lawn is somewhat of a status symbol. It proclaims that a homeowner has the means to achieve what his or her neighbors haven't: a lawn that looks good year-round. If you want to be that homeowner, you must first learn what type of grass grows in your lawn. It's probably the same grass your neighbors have, but with a little knowledge, you can turn yours from brown to green.
Things You'll Need
Grass zone map
Fertilizer
Fertilizer spreader
1-inch rain/sprinkler gauge with spike
Sprinkler system
Refer to a grass zone map to find out what kind of grass grows in your lawn (see Resources). The type of grass you have determines how you should care for it, according to Dawn West of All About Lawns.
Visit your local garden care store to buy the proper fertilizer for your type of grass. Position a fertilizer spreader over a hard, level surface and pour the fertilizer into it. Push the spreader around the lawn to evenly distribute the fertilizer.
Stick a 1-inch rain gauge into your lawn. Choose an open area so that the gauge doesn't catch water that falls from objects like trees or buildings.
Set your sprinkler system to water your lawn. Note the length of time it takes for the rain gauge to collect 1 inch of water. This is how long you should typically water the grass.
Leave the rain gauge in the ground for the rest of the week. Note how much water it collects if it rains. Repeat Step 4 if needed to be sure that the grass receives 1 to 2 inches of rain during the week.
Monitor the grass for brown spots in the following weeks. Stick the rain gauge in any brown spots to check how much water they receive when the sprinkler is on. Adjust the sprinkler system to better water these areas, since they probably receive too little.