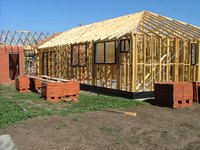 Building a home is expensive. Any ways you can save money without cutting corners or compromising the integrity of your structure should be looked at. It is never a good idea to build something as important as a house in a way that will be unsafe for its occupants, but there are a lot of good ways to make every dollar count. Reusing building materials that are still safe and worthy will not only save you lots of money, it will be healthy and helpful for the environment, too.
Things You'll Need
Homes to be demolished
Contact information
Find homes that are being demolished and talk to the owners. Sometimes the home is auctioned off for the building materials. The auctioneer will take the crowd through the home one window at a time and finally sell off the remaining structure. The frame of the house is made of the 2 by 4's or 2 by 6's that you will need.
Contact the contractor of the home being demolished if it is not up for auction. He may be happy to see the material used instead of dumped.
Check local newspaper listings for building materials. Many contractors or home owners who have finished a project on their own home will sell material that is left over. Craigslist and ebay are popular spots to look for the materials you need.
Call around and compare prices when you do have to buy an item from a store. Every building supply store in your area will have different prices but also different services. One store may have lower prices but charge for delivery. Another may cut your materials to the length you need without extra charge and that will save you time and money.