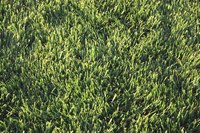 St. Augustine grass is a tough, resilient turf for lawns in temperate, moist, coastal climates. It's heat-resistant and will keep its color even in the hot summer months. St. Augustine grass attracts few pests, and can even grow in shady areas. If you've experienced patchiness or die-off with this type of turf, you must first determine whether it's due to insects, rodents or poor soil nutrition. Once you've corrected the underlying cause of the problem, you can easily patch the bare spots with St. Augustine grass sod.
Things You'll Need
St. Augustine sod
Spray paint
Measuring tape
Gloves
Spray-paint lines around dead patches to form squares or rectangles to make cutting and fitting pieces of sod easier. Measure the length and width of the results with a tape measure and multiply them to calculate the square footage of sod you will need.
Put on gloves and dig out the dead patches with a shovel, knocking soil loose from dead roots and thatch. Discard remnants in yard waste bags. Rake the areas smooth.
Buy St. Augustine grass sod from a local nursery in the square footage you've calculated. Add a few square feet for any mistakes you might make. Be sure to buy healthy, moist sod--nothing that's yellowed or dry.
Water the raked areas thoroughly before cutting and planting. Measure patches of sod for each raked area and cut them out with a sharp knife. Press the sod down hard, then walk on it several times to ensure good contact of roots with soil. Water sod patches thoroughly.