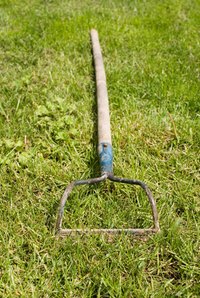 Whether removing grass from your yard for a garden, building project or the environment, you need a tool that removes grass, with top layer roots, without removing an excessive amount of soil. A manual sod cutter removes the grass from your yard in 6 or 12-inch wide strips you roll up and remove from your property. Since a manual sod cutter uses no fuel or electricity, it is a perfect tool if you are concerned with reducing greenhouse gas emissions.
Things You'll Need
Dig a 12-inch wide cut into the sod with the garden hoe. This will allow the blade of manual sod cutter to cut under the sod easier and allow you to determine the depth of the grass and top layer roots.
Set the blade of the manual sod cutter in the cut and measure the distance from the bottom of the sod cutter's wheel to the bottom of the grass roots with the tape measure.
Adjust the cutting depth of the manual sod cutter blade per the tool's operating manual.
Kick the cross bar located above the cutter blade and push forward on the handles of the sod cutter to begin the cut. Keep your foot on the crossbar as you push to keep downward pressure on the cutting blade.
Kick the crossbar if you encounter an area that is hard to push through with the sod cutter. This will cut thick roots and rotten limbs and push rocks into the soil.
Push downward on the sod cutter handles as you near the end of the cut, to cut the sod.
Roll the cut sod into a tight coil. Move the sod out of the cutting area.
Continue cutting using the steps listed until the area is grass free.