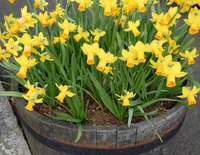 Daffodils are hardy flowers that normally bloom in spring, but can be "forced" to bloom prior to their usual season. Daffodil bulbs are forced by simulating their natural growing environment. Daffodil bulbs can be forced at any time throughout the year.
Planting daffodils to force bloom them is different than planting them in the garden. It takes careful planning and a little more initial effort, but when planted in containers, forced daffodil bulbs require only minimal care during the entire 12-to-16-week process.
Things You'll Need
Daffodil bulbs
Rooting hormone
Container
Rocks or broken pottery shards
Potting soil
Label
Liquid houseplant fertilizer
Select a 6-to-8-inch container with an adequate drainage hole. A pot this size will accommodate 5 to 6 bulbs.
Purchase firm, healthy daffodil bulbs from a nursery or garden center.
Soak the bulbs in rooting hormone for 24 hours before planting to promote healthy root growth.
Fill the container with potting soil to within 2 inches from the top.
Arrange the bulbs near each other on the soil, but not touching. Backfill loosely with potting soil to within one-half inch from the top, leaving the noses of the bulbs exposed.
Water thoroughly to ensure that the soil is distributed around all the bulbs. The water level should be no higher than the base of the bulbs.
Label the container with the planting date and name of the bulbs.
Store the container in a dark location where the temperature remains between 35 and 50 degrees Fahrenheit for 12 to 15 weeks. Keep the potting soil moist during this time.
Move the container after 12 to 15 weeks to an indoor location with indirect lighting. Keep the soil moist and the temperature between 60 to 65 degrees Fahrenheit.
Fertilize the bulbs weekly with liquid houseplant fertilizer diluted to one-half strength as they begin to grow and bloom.