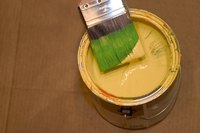 Latex paint is an acrylic water-based paint that can be thinned with water to return it to its original consistency. However, water should only be added to replace any water that has evaporated. Water should not be added to dilute latex paint to extend coverage or produce a finer stroke, as this can result in streaky coverage. It is better to dilute latex paint with a conditioner specifically made to dilute latex paint.
Things You'll Need
Thinning latex paint
Test your old latex paint to see if it needs thinning. Stir the paint well with a paint stick. Lift the paint stick from the can and observe the paint run off. The paint should flow off of the stick easily and smoothly. If the paint sticks, clumps or runs unevenly, the paint should be thinned before use.
Add one ounce of water gradually while stirring. Stir thoroughly, including scraping the bottom of the can. Test the paint with the paint stick again. If the paint does not run smoothly, proceed to Step 3.
Add another 1/2 oz. water to the paint gradually while stirring and then test again. Repeat until the paint flows smoothly.