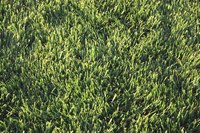 Several species of grass thrive in the warm Florida climate. However, the best species for Florida lawns depends on the area and the intended purpose of the lawn. Soil quality and composition varies between inland and coastal regions, and different grasses suit the hotter southern region compared to the cooler north. In general, warm season grasses are the best adapted to survive in Florida. All lawns in Florida are only as good as their seed bed. Make sure you prepare the soil and fertilize well before planting.
Visit your local Florida garden store and take a look at their seed packs and sod options. Several species are commonly sold in Florida
Check grass seed packet labels. State laws demand that packs display key information about the seed content, including purity, weed levels and percentage germination. Select packs with purity ratings of at least 90 percent, low weed seed content and germination levels of 85 percent. This will deliver the best quality grass for your lawn.
Opt for an established Florida favorite. St.Augustinegrass is a native species to the region and as such will grow in most Florida soil types. This makes it the most common lawn grass in the state. Purchase St.Augustinegrass as sod; don't try to grow it from seed.
Decide how important lawn appearance is for your garden and how much time you have to dedicate to lawn maintenance. Fine grades of bermudagrass, for example, adorn golf courses and highly manicured lawns in Southern Florida. Choose bermudagrass for a lush covering, but expect to have to add fertilizer, tend thatch areas and fend off pest attacks.
Select bahiagrass for hot, dry Florida areas and locations near the ocean. Bahiagrass grows well in sandy soil with low nutrient levels, has few common pest problems and doesn't require regular fertilization, according to the University of Florida. Pick up quality bahiagrass seed from a garden store.