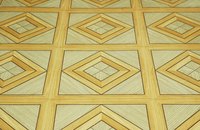 Replacing carpet with linoleum flooring is a home improvement projects with many benefits. Linoleum flooring is better for people with allergies and it is also much easier to keep clean. Linoleum is also a natural product, which is very important to many consumers. Today, there are many colors and designs of linoleum available making it a fashionable and durable design solution for many rooms. Linoleum is available in large sheets, rolls, or tiles. Tile form is the easiest to install and is the best choice for homeowners since it allows unlimited design possibilities by combining different patterns and colors. It is also more adaptable to rooms with awkward shapes.
Things You'll Need
Utility knife
Tape measure
Pencil
Hammer
Broom or shop vacuum
Staple gun
Staples
Circular saw
Joint filler
1/4" plywood, enough to cover floor
Trowel, size recommended by flooring manufacturer
Linoleum adhesive
Linoleum tiles, enough to cover floor plus 10% extra for waste allowance
100 lb. roller
Preparing the Floor
Remove the carpet and padding from the room. Be sure to remove any nails or tack strips from the sub floor.

Sweep or vacuum sub floor.
Cover the sub floor with a new layer of 1/4" plywood. Be careful to keep the joints tight. Secure with staples 4 to 6 inches apart. Fill joints with joint filler.

Installing Linoleum Tiles
Find the center of the room by measuring the length and width of the room. Mark a center line along the length and width of the floor, dividing the room into four quadrants.

Starting at the center of the room where the two lines intersect, lay one tile with top and side edges even with the horizontal and vertical lines. Before you use adhesive, go ahead and lay out a line of tiles across the length and width of the room to be sure you are happy with the pattern. You probably will not be able to lay the tile closest to the wall because it will need to be cut to fit. Do not cut the tiles next to the walls until the rest of the floor tiles have been glued down.
Once you are happy with the layout of the floor begin gluing them down. Starting at the center of the room, use a trowel to apply the adhesive according to manufacturer's directions. Apply only enough adhesive for a few tiles at a time, checking to make sure you are staying in a straight line with each tile. Continue laying tiles in this manner until the floor is covered except for the rows next to the walls which need to be trimmed to fit.
Lay tile next to wall and mark where it needs to be cut to line up with end of an installed row. Cut tile using utility knife. Apply adhesive and fit tile into place. Continue this procedure around room until all the tiles are in place.
Roll over entire floor with a 100 pound roller. Be sure to roll over all of the seams several times.