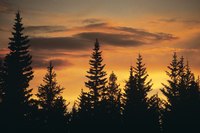 The Norway spruce is one of the fastest growing spruce varieties. This hardy tree can grow more than 12 feet tall in North America and more than 18 feet tall in Europe. Useful as a hedge, windbreak or border tree, the Norway spruce is beloved for its graceful, upward-pointing branches. These versatile trees are also popular as Christmas trees due to their pungent smell and characteristic profiles.
Things You'll Need
Pruners
Deer repellent (optional)
Water your young Norway spruce once a week during hot weather. Allow water to trickle into the soil from a hose placed at the base of the tree. Note that both under-watering and over-watering will cause the branches to droop.
Prune your Norway spruce in early spring, if necessary. The spring growth period will allow your tree to recover from the pruning process.
Remove any weeds within 2 or 3 feet of the trunk during the early years of your Norway spruce's life, as these weeds will compete for valuable nutrients in the soil. After a few growing seasons, you can add a layer of mulch around the trunk.
Your Norway spruce loves fertilizer. Add fertilizer pellets, 10-10-10 fertilizer or 20-20-20 fertilizer, to speed up your tree's growth rate and to broaden the branches. Fertilize twice a month in the spring and once a month in the summer.
Sprinkle deer repellent on your tree during the early years if you believe deer will be a problem.