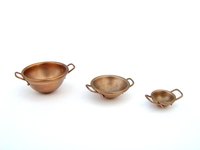 A copper bowl is ideal for preparing meringue. But if your meringue has not risen as much as you would have liked, your bowl may not be as clean as you had thought. Residues from food and many common cleaning agents can lessen the quality of your meringue. So the next time you clean your copper bowl, put away the dish soap and look into your pantry. One of the most effective cleaning methods for copper bowls is also one of the most natural.
Things You'll Need
1 tbsp. salt
1 cup vinegar
Add 1 tbsp. of salt to 1 cup of white vinegar. If the bowl isn't too dirty, you can mix the solution directly in it.
Dip a clean cloth into the solution.
Rub the bowl thoroughly with the rag. Dampen the rag with more solution as necessary.
Rinse the bowl with hot water.
Dry the bowl with a clean cloth. It is now ready for use.