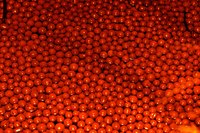 Homemade phosphorus fertilizer is a great way to get the most out of a garden or orchard. There are quite a few recipes available, but this particular one is completely organic and very cost-effective to produce. The mixture will last for a number of years if it is kept dry.
Things You'll Need
Large plastic garbage can with snap-on lid
4 lb. seed meal
1 lb. dolomite lime
1/2 lb. bone meal or 1 lb. soft rock phosphate
1/2 lb. kelp meal
Gloves
Dust mask
Organic Homemade Phosphorus Fertilizer
Clean and dry the garbage can. Any contaminates or moisture will degrade the quality and shelf life of the mixture.
Put on a dusk mask and pour the ingredients into the garbage can.
Mix the ingredients together thoroughly. The best method is using gloved hands for initial mixing and then shaking and tossing the garbage can until the mixture is even.
Seal the garbage can with the snap-on lid.
Store in a cool, dry place until the fertilizer is needed.