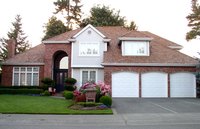 A garage is an important part of many homes. Not only are they used for housing automobiles, they are also used to store things such as tools and yard equipment. For this reason, homeowners often purchase expensive garage doors that offer functionality and security. Keeping a garage door clean and maintained not only improves the home's appeance, it also protects the homeowner's investment by prolonging the life of the garage door, according to the Cleaning Tips website.
Things You'll Need
Stiff brush
Broom
Garden hose
Large bucket
Mild detergent
Sponge
Cloth
Brush the surface with a stiff brush or broom to remove all dirt and debris.
Spray the surface of the garage door with warm or hot water from a garden hose.
Fill a large bucket with warm water and 1 cup of mild household detergent.
Wet a large sponge or cloth inside the cleaning solution and gently scrub down the garage door thoroughly.
Rinse all soap residue from the garage door by thoroughly spraying the surface of the garage door with warm or hot water from the hose. Allow the garage door to dry thoroughly, then open it.
Wipe any dust and debris from the door tracks, using a cloth or broom.