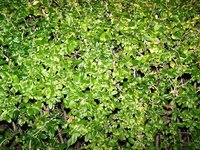 The wax-leaf privet (Ligustrum japonicum 'Texanum') is the classic hedge shrub. With its compact habit and tolerance to heavy pruning, the wax-leaf privet is useful as a windbreak, a privacy screen and as a background to bedding plants. In the spring, the wax-leaf privet blooms with small, fragrant white flowers. Overall, this plant requires little care and is hardy to USDA zones 7 to 11.
Things You'll Need
Fertilizer
Insecticidal soap
Pruning shears or loppers
Water the wax-leaf privet, during its first year, so the soil remains moist, but not soggy. The mature wax-leaf can withstand drought conditions, so water when the soil is dry.
Fertilize the wax-leaf privet with a 4-3-3 formula. Apply the fertilizer to wet soil, in the spring, at the rate suggested on the package.
Inspect the wax-leaf privet for pests. White flies are a common pest and can be controlled with insecticidal soap, according to package directions.
Prune the wax-leaf privet regularly to keep it to the desired shape and size. Horticulturists with the University of Florida recommend that you keep the top of the shrub narrower than the bottom to allow light to reach the lower branches. Use the pruning shears to snip off any undesired branches by cutting them back to their point of origin.