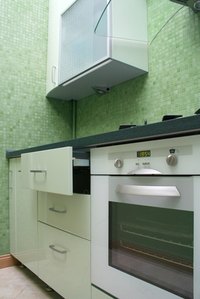 Cleaning the glass door on an oven is an essential part in general oven cleaning. Baked-on food and other grime accumulate here, but this doesn't mean you need to use potentially toxic products to clean oven doors. You likely have all you need right at home to thoroughly clean baked-on food and other grime from the glass.
Things You'll Need
Rags
Dish soap
Scrubbing sponge
Bowl
1 cup baking soda
¼ cup washing soda
Spoon
Rubber gloves
White vinegar
Wipe down the glass oven door with a rag and hot, soapy water. Use a scrubbing sponge to loosen the baked-on food. Wipe the door with a clean rag to remove any residue.
Fill a bowl with 1 cup baking soda and ¼ cup washing soda. Add water, a tablespoon at a time, and stir constantly until a thick paste forms.
Put on a pair of rubber gloves to protect your skin while cleaning. Use your gloved fingers to spread the paste onto the oven door.
Allow the baking soda mixture to remain on the glass for several hours. If possible, leave the mixture on the glass overnight.
Wipe off the glass the next day with a wet rag. Rinse out the rag often while wiping the paste from the door.
Rinse the glass with a rag and soapy water. Follow up with a rag and plain water, and then dry the glass with a rag.
Use white vinegar if any areas of the glass door still have baked-on food. Apply a generous amount of white vinegar using a rag.
Allow the vinegar to set on the glass for a few minutes. Wipe the glass clean with a damp rag or scrubbing sponge. Repeat the application of vinegar, if necessary, until all of the baked-on food is gone.