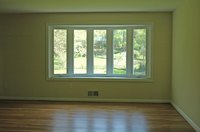 Wainscoting, paneling which covers the lower portion of a wall, is an ideal way to immediately transform the appearance of an ordinary room. Professional installation of wainscoting is typically quite expensive. An inexpensive way to add wainscoting is to purchase a pre-manufactured wainscoting kit that has a customized interlocking beadboard system for the panels. This type of wainscoting has pre-cut angles and sizes for easy installation. Eliminating the cost of labor on your installation is a true money-saving tactic.
Things You'll Need
Wainscoting kit
Tape measure
Wood adhesive glue
Nails
Nail gun
Miter saw
Jigsaw
Table Saw
Measure the room's length, height and door and window height. Use the measurements to purchase a pre-fabricated wainscoting kit.
Lay all of the stiles and panels against the wall to determine the proper layout. Mark any electrical outlets, and use a jigsaw to cut around the marked area.
Remove the old baseboard. Use a miter saw to cut the pre-notched baseboard to the correct size. Slide the bottom rail into one corner of the wall, and attach the new baseboard to the wall using finish nails. Employ 45-degree angles to interlock the remaining baseboards.
Start from the center of the room, and attach the wainscoting panels to the wall, working towards each corner of the wall. Apply a small amount of wood adhesive on the back of each panel, and slide the panel into the notches in the back of the baseboard. Cut the wall panels to the correct width to fit at the corners using a table saw.
Set the chair rail into position resting on top of the panels, and apply a small amount of glue to the back. Nail the rail into position.
Paint the wainscoting with a primer. Let it dry, and then lightly sand the wood. Use a latex-based paint to finish the job.