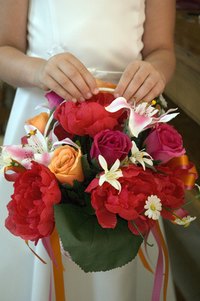 Flowers often hold special memories of events or moments in your life that you want to remember always. A good way of doing this is preserving a few of the flowers to keep in a scrapbook or memory box. Preserving flowers is not difficult to do; there are several different methods. Air drying and pressing are the most popular methods and require few supplies. They do, however, take time to complete.
Things You'll Need
Air Drying Method
Strip the leaves from the stems of the flowers and discard them.
Tie several flowers together at the bottom of the stems in a small bundle with string or thin twine. Leave a long tail of string to allow you to tie the bundle to something.
Hang flowers upside-down from a hook or hanger and place in a dark, dry area, such as a pantry or closet.
Check flowers after one week for moisture. It will take two weeks on average for flowers to dry completely.
Display flowers in any way you choose once they are completely dry.
Pressing Method
Place flowers inside several sheets of newspaper so that they are not touching.
Place the newspaper and flowers inside a thick book such as a large phone book or encyclopedia or place a heavy flat object on top of the newspapers and leave in place.
Wait two to four weeks before removing the flower. It is best to wait at least a month to ensure that the flower is completely dried.
Display the flower in a scrapbook or frame.