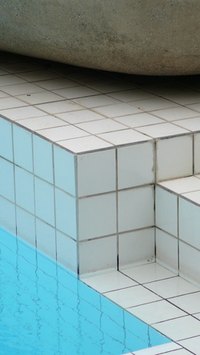 Vinegar has been used for over 10,000 years in cultures all around the world. Distilled white vinegar is commonly found in most American households. It has a myriad of uses from adding flavor and tang to culinary dishes to killing germs and most bacteria found on a wide variety of surfaces in the home. Vinegar is an environmentally friendly, toxin-free way to clean and shine.
Things You'll Need
White household vinegar
Baking soda
Lemon
Spray bottle
Scrub brush
Soft rag
Clean the grout and disinfect kitchen tiles with vinegar. Place 1 cup of distilled apple cider vinegar in a jar or bowl. Add 2 tbsp. fresh lemon juice and just enough vinegar to make a creamy, smooth paste. Use a soft brush to scrub grout lines and stains on the tile surfaces. Rinse with clear hot water, and shine with a soft cloth.

Submerse small items in undiluted white vinegar. Scrub grout or small parts with an old toothbrush. Rinse with clear water and buff with a soft cloth.
Spray shower tiles with undiluted white distilled vinegar. Saturate the grout, and allow the spray to remain on the tiles for several minutes. Scrub with baking soda moistened with vinegar. Use a soft brush, rinse and shine. Vinegar is also an effective glass cleaner to use on shower doors and fixtures. It cuts water scum buildup and kills mold and mildew.
Mix white vinegar with 2 lbs. of baking soda to scrub patio and pool tiles. Add enough vinegar to soda to make a heavy paste. Saturate grout lines with the mixture. Scrub with a stiff pool brush. Use a pressure hose to rinse grout and tile.