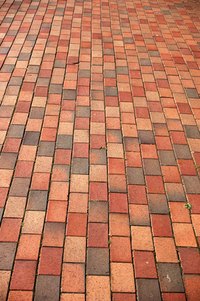 Edging, also called edge restraints, for brick pavers holds the pavers in position and keeps them from pushing out at the sides. Edging is made from either plastic, pre-cast concrete or metal and is installed after the brick pavers are in place. They help to hold the brick pavers in place during winter freezing and thawing, so the brick pavers do not push away from each other when water freezes between the pavers.
Things You'll Need
Paver edging
8-inch spikes
Hammer
Slide the lip of the paver edging under the bottom of the outside row of brick pavers. Press the edging in tight against the bricks.
Insert 8-inch spikes into the holes in the paver edging and drive the spikes in with a hammer. The holes in the edging are on an angle, be sure to follow the angle guide when driving in the spikes. Do not install the spikes straight up and down.
Backfill beside the edging with soil, sod or mulch. Keep the line 1/2 to 1 inch below the side edge of the brick pavers so rain does not wash soil onto the pavers.
Complete the brick paver installation by pouring sand on the pavers and tamping the pavers with a plate compactor to vibrate the sand into the joints between the pavers.