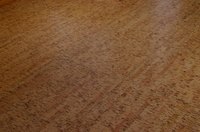 VCT or Vinyl Composition Tile as it is known, is generally used for commercial applications. It is tough and holds a good shine, yet it is easy to apply and is cost effective for many commercial uses. Caring for your VCT tile does not take any specialized skills except that of regular maintenance, and the results will keep your VCT tile looking as good as the day it was first put down.
Things You'll Need
Broom or mop
Mats and/or rugs
Floor cleaner
Tile sealer
Non-abrasive cleaner
Rag
Extra tiles
Sweep or dry mop the surface once a day, especially in high traffic areas.
Place mats or rugs near entry ways to limit wear in those areas.
Damp mop your VCT tile with a regular floor cleaner to remove dirt and soiled spots.
Apply a finish coat as needed in high traffic areas to keep up the appearance, shine and durability.
Use a non-abrasive polishing cleaner and a damp rag to remove scuff marks and black heel marks.
Clean stains and spills immediately to reduce the instance of the stain becoming permanent.
Move furniture and other objects around that rest upon the VCT tile, This will prevent indentations from occurring.
Repair cracked or chipped tiles as soon as possible using extra VCT tiles. Cut them to shape, apply adhesive and set them into place.