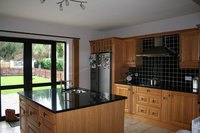 When it comes to resurfacing laminate kitchen countertops, painting is preferred over lacquering. Painting to resurface your kitchen countertops is ideal for the do-it-yourself project. With paint, you can choose any color you want. You can even simulate the look of marble and stone with paint. The project generally takes several days, but the results are well worth it.
Things You'll Need
200-grit sandpaper
Cloth
Paint
Foam roller
Water-based polyurethane
Sand your countertop with 200-grit sandpaper. Sand off all shiny spots so that the paint will be able to stick.
Wipe down the sanded countertops with a moist cloth to remove any residue left from sanding.
Paint your desired color with a foam roller. Let the paint dry overnight.
Apply second coat of paint, if needed, and let it dry overnight.
Paint water-based polyurethane over the countertops with foam roller. Let it dry overnight.
Apply second coat of polyurethane and let it dry overnight.