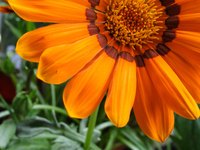 Growing wildflowers in containers can be easy and rewarding, provided that the ideal conditions for the flowers are recreated in the pot. Without the appropriate soil moisture or sunlight, not even native plants can survive. Wildflower container gardening is perfect for apartment-dwelling gardeners and yard gardeners alike. It has the added advantage of allowing gardeners to cultivate specimen plants that garden soil can't support, or that have excessive water needs. Container plants are easy to relocate without damaging the root system.
Things You'll Need
Lay a loose layer of pottery shards in the bottom of the pot to prevent soil from falling through the holes when the plant is watered.
Add potting soil, compost or both, a little bit at a time, pressing down on the soil as you work to eliminate air pockets. As you get close to filling the pot, arrange the plants, allowing plenty of space for growth. Leave 1 inch between the top of the soil and the edge of the pot to act as a reservoir when watering and to prevent water from overflowing the edge.
Add mulch to cover the soil. Mulch keeps the soil from drying out too fast in the heat of the day, preserving water.
Plant seeds according to the directions on the seed packet. Make your own wildflower mixture by mixing the seeds of your favorite annuals and planting them in the same pots or window boxes.