Things You'll Need
Collapsible round clothes hamper (26 inches tall)

Scissors

Measuring tape

1 1/2 yards stretchy silver fabric

Fabric pins

Sewing needle

Silver or gray thread

Computer

Inkjet printer

1 package sew-in fabric for printing photos (found at fabric stores)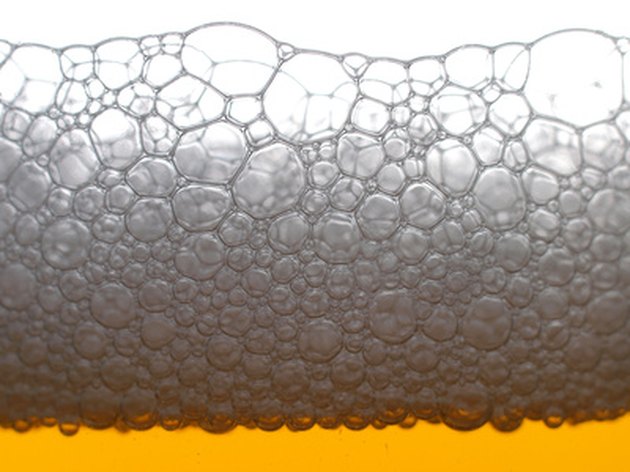 If you do not feel like taking yourself too seriously for a costume party, dress up as one of your favorite beverages. To make your own beer can costume you will need to have basic sewing skills and intermediate computer skills. Although this project is not difficult to make, it will take up to a couple of hours. You do not need to know how to use a sewing machine to make a beer costume but it will speed up the process.
Step 1
Cut off the bottom lining of the collapsible hamper. The hamper will serve as the skeleton of the beer can costume. Your arms will go through the top handles of the hamper, which will be your shoulder straps.
Step 2
Measure the hamper's circumference and height. Add 2 inches to both measurements and cut the silver fabric this length and the height. For example, if the hamper measures 26-inches tall and 36-inches around, cut the fabric so it is 28-inches tall and 38-inches long.
Step 3
Fold the bottom and the top of the silver fabric over 1 inch; pin the fabric in place. Sew the hem on each side of the fabric using 1/2-inch seam allowance.
Step 4
Fold the silver fabric 1 inch at one of the long ends, making sure the fold is facing the same way as the top and bottom folds. Pin the fabric in place and sew it using 1/2-inch seam allowance.
Step 5
Find or create an image you would like to use as your beer can's logo online or using a clip art program. Make the graphic big enough to fill an 8 1/2-by11-inch sheet of paper. Print the image onto two of the special sew-in fabric sheets, one for the front and back of the can. Trim the excess sew-in fabric sheet around the logo.
Step 6
Place the graphics you just printed onto the silver fabric, centering the images so they will be seen on each side of the beer can costume when it is complete. Pin the graphics into place and sew them to the silver fabric using a slipstitch around the border.
Step 7
Pin the silver fabric around the hamper so the seam runs on the side of the costume under one of the hamper loops. Make sure the stitched end of the fabric overlaps the raw end when lining up the seam.
Step 8
Hand-sew the silver fabric to the top and bottom of the hamper; stitch the side seam of the fabric to the hamper as well. Trim any excess threads.
Warning
Do not use copyrighted images for your beer can's logo.