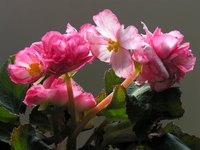 One of America's favorite flowers, begonias are a popular choice for flowerbeds across the U.S. They are a showy flower with green-brown leaves. Begonias are also very easy to grow, and tuberous begonia flowers last up to four months longer than seed begonias. Begonias make an excellent indoor plant, also, and can be potted and put in almost any window. North-facing windows are the only windows begonias do not like, however additional lighting can be provided to make them flourish. Begonias are also pest and disease resistant.
Things You'll Need
Soil-less potting mix
8-to 10-inch pot with drain holes and a saucer
How to Grow Begonias in a Pot
Soak the tubers in warm water every day for three to four days for 10 minutes. This will encourage the tuber to grow a bud so that you can see how to plant it in the pot.
Fill the saucer with pebbles and fill the bottom of the pot with about one inch of pebbles. This will provide good drainage for the begonia.
Add the dirt in the pot, leaving at least three inches clear on the top.
Place the tuber into the dirt with the bud side up and the round side down.
Fill the pot with two more inches of dirt.
Water thoroughly so that water comes out of the bottom of the pot and into the saucer. After 10 minutes, drain the saucer and place it back under the pot.