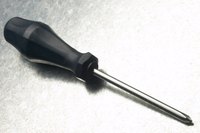 A silhouette shade provides excellent coverage for any window. The Hunter Douglas Silhouette may prove difficult to install for those unfamiliar with the terminology, but if you have patience and time, you can learn one step at a time. Make sure you understand every step before you proceed. Decide beforehand if you want an inside mount, which keeps the shade from covering any nice window details, or if you want an outside mount so the shade hangs over the window, maximizing coverage.
Things You'll Need
Universal cord tensioner installation kit
Installation brackets
Dual rotator support bracket
Phillips screwdriver
Measuring tape
Pencil
Power Drill
Level
Pliers
Install the Brackets
Set up the placement of the installation brackets. Measure two to three inches from the windows jams on either side. Mark with a pencil, which is where you'll place the installation brackets. Break off the top tab of the brackets with the pliers.
Center the dual rotator support bracket within the installation brackets.
Examine the surface to ensure that it's level.
Drill two hex head screws into the installation brackets with a drill.
Install the Shade
Hold the shade so the colored fabric faces you.
Peel the protective layer off the head rail, and slide the head rail of the shade into the brackets.
Push the head rail in the brackets until you hear a click.
Install the Universal Cord Tensioner
Slide the cord tensioner to the bottom of the cord loop before proceeding.
Put a screwdriver through the hole at the bottom of the tensioner.
Release the safety mechanism by moving the screw hole down to the line marked on the tensioner.
Secure the cord tensioner to the wall so that children do not have access to the cords. They may place the cord around their necks, so it's imperative to double-check the installation.