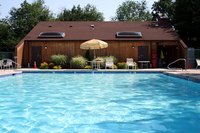 Rust stains in plaster pools normally occur when metal objects are left on the pool's bottom. Coins and soda or beer cans can cause rust stains to develop in as little as 24 hours. It is important to avoid metal objects from entering your pool, but when they do there are certain procedures that can remove the ugly rust stains that develop on the plaster in your pool.
Things You'll Need
Goggles
Wet/dry sandpaper
Pool pole
Duct tape
White sock
Granular chlorine
Pool test strip
Turn the pump to the pool to the off position. Put on goggles so you can see the stain clearly under water.
Rub the wet/dry sandpaper onto the rust spot on the plaster wall. If the rust stain is on the bottom floor of the pool, attach the sandpaper with duct tape to the end of a pool pole. Dip the pole into the pool and rub the stain with the sandpaper. The sandpaper loosens and removes the rust from the stain.
Fill a white sock with 1 pound of granular chlorine.
Place the sock onto the rust stain by swimming down and placing it directly on the stain, or by tying the sock to the end of the pool pole and dipping the pole down into the pool with the sock directly on the stain. If the stain is on the plaster wall, tape the sock to the stain with with several rows of masking tape. The masking tape may not hold for a long period, but enough for it to bleach the stain.
Leave the sock on the stain for two hours then remove. The chlorine should dissipate in this time frame and bleach the stain.
Turn the pump to the pool to the on position and allow the filter to remove any rust particles.